NZx – June 29th: water, water everywhere…..
Wednesday, June 28, 2017
Naumai
Water, water everywhere so whats the issue…….?
A recent visit to Waireinga/Bridal Veil Falls, revealed a deeply discoloured waterway, with warning signs about the quality of the water, and danger to swimmers. Standing in the midst of 217 ha Wairēinga Scenic Reserve, surrounded by tawa-dominated forest, watching the water flow over 55 metres basalt cliffs, one wonders how this could happen in New Zealand.
There is good work being done in parts of the catchment. Over 8kms of native planting in an area upstream of the waterfall has been completed as part of a local initiative coordinated by Whaingaroa Harbour Care.
Water is already to be established as a key component of this years elections. A recent survey by Lincoln University (8th Public Perceptions of New Zealand's Environment) canvassed New Zealander's views about aspects of the environment .
The worst managed environments were perceived to be rivers, lakes, and groundwater, largely on account of very negative perceptions concerning the management of farm effluent and runoff. In fact, nearly 60 percent of respondents deemed farming to be one of the three main causes of damage to freshwater.
In a separate report, Our fresh water environment 2017, found nearly three quarters of native freshwater fish species are threatened by or at risk of extinction, as well as a third of native freshwater invertebrates and a third of native freshwater plants.
All of these reports raise the current issues, but also note the lack of data, and that the snapshot doesn't take into account the slow movement through aquifers – such as those in Canterbury. The real impact on communities in these area may take many years to surface.
Both New Zealand's leading export industries, tourism and farming, need to better manage their social license to operate in the environmental space. Water quality, the wider environment and sustainability are discussions (and subsequent actions) that need to form a key part of the this years conversations.
Ka kite ano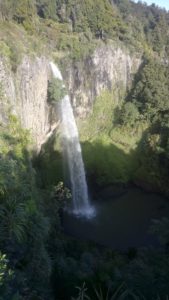 Waireinga/Bridal Veil Falls
Tags:
1
,
100%
,
biodiversity
,
environmental perceptions
,
Harbour Care
,
nz communities
,
nz inc
,
Raglan
,
social license to operate
,
sustainability
,
sustainable tourism
,
taonga
,
tourism communities
,
visitor experiences
,
Waireinga/Bridal Veil Falls
,
water quailty
This entry was posted on Wednesday, June 28th, 2017 at 10:24 pm and is filed under
General
. You can follow any responses to this entry through the
RSS 2.0
feed. You can
leave a response
, or
trackback
from your own site.
One Response to "NZx – June 29th: water, water everywhere….."