NZx – April 24th: "keeping the clouds and borrowing the moon"
Tuesday, May 30, 2017
Naumai
Visiting Dunedin is always a great experience. Next time you are there, visit the Dunedin Chinese Gardens. The Gardens reflect the contribution people from China have made, and continue to make, to Dunedin. This is an authentic experience with the picturesque and peaceful surroundings reflecting the spirit of the place and the concept of "keeping the clouds and borrowing the moon".
Most Chinese festivals are observed by eating a particular food as a custom, and the Dragon Boat Festival is no exception. Zongzi, a pyramid-shaped glutinous rice dumpling wrapped in reed leaves, is the special food eaten to celebrate the day. It has various fillings. In north China, people favor the jujubes as the filling, while the south sweetened bean paste, fresh meat, or egg yolk.
The Dunedin Chinese Garden recently celebrated the legend of Qu Yuan, and integral part of world-wide Dragon Boat festivals. A fun family day was held with different events based around this fascinating legend. As part of celebrating the legend, the Garden's also offered visitors the chance to try Zongzi.
Our order taken we sat in the Tea House listening to melodious singing from Tai Chi exponents. The pork Zongzi arrived but on unwrapping the glutinous rice was cold and uncooked. A new dish eventually arrived but again fell well short of an authentic warm dish. The staff did recognise the issue with a free gift which helped, but the experience failed to maximize the cultural opportunity and link to the event.
In the competitive field of visitor experiences you get one chance to make a great impression. This is even more so when you are dealing with cultural experiences. The opportunity to introduce visitors to authentic cultural based food was missed – the experience reflecting negatively on our otherwise good experience.
Ka kite ano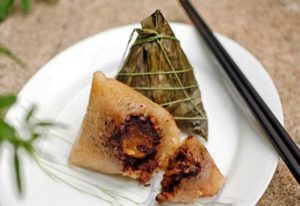 Zongzi